Services - Physical Therapy
Areas of Expertise
Physical therapy is a health care profession that's concerned with human function and movement and maximizing physical potential. Synergy's physical therapists can help patients with injuries sustained in accidents, during work, or sports, as well as everyday activity. Our staff are licensed health care professionals specializing in rehabilitation and they design and implement comprehensive, personalized treatment plans for a variety of musculoskeletal problems and conditions.
CONDITIONS TREATED:
Back pain

Neck pain
Herniated discs
Shoulder pain
Rotator cuff injuries
Knee pain
Migraine headaches
Temporal mandibular joint pain
Neurological disorders
Hip, leg, and knee problems
Spinal stenosis
Total joint replacements
Synergy accepts the following insurance for physical therapy services:
Blue Cross Blue Shield
Harvard Pilgrim
United Healthcare
Allways Health Partners
Aetna
Frequently Asked Questions
What is involved in the evaluation?
Your one hour evaluation will be performed in a comfortable, private room where you will have one-on-one individualized attention. Your physical therapist will review your past medical history, provide consultation and review of any imaging tests (i.e. x-ray, CT scan, or MRI). They will also perform an in-depth musculoskeletal evaluation, including posture and the kinesthetic chain to look for muscle imbalance and problem areas that may be the source of your injury or pain.
What is involved in the follow up treatment session?
Your treatment session will be based on your detailed biomechanical evaluation and you will have a one-on-one individualized private session. Your treatment may include therapeutic exercise, soft tissue work, mobilization, and stretching. As a holistic practitioner at Synergy, Karen may recommend consultation with acupuncture as well as specific yoga or craniosacral practices that would allow for faster healing and maintain your body's well-being.
How do I begin?
Simply contact Synergy to make an appointment.
You can also book a complimentary screen call or ZOOM call to review your condition with Karen and inquire if you are a candidate for physical therapy.
Phone Screening
15 minutes
Initial Evaluation
60 minutes
Follow Up Session
40 minutes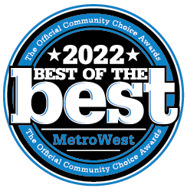 Finalists:
Best Acupuncture Clinic
Best Massage Therapist – Melissa Angel
Best Yoga/Pilates Studio